Landgate acknowledges the Traditional Owners of Country throughout Western Australia, and we pay our respects to their Elders past, present and emerging. We acknowledge the Noongar people as the original custodians of the Land on which our Midland and Perth offices sit, and we acknowledge the Wardandi people as the original custodians of the land in which our Bunbury office sits.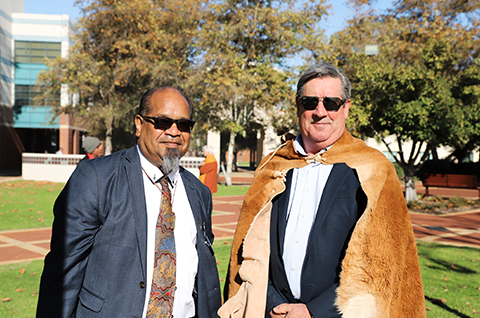 "We incorporate reconciliation activities into our business practices and decision-making, taking words and turning them into actions."
– Landgate Chief Executive, Graeme Gammie, pictured here with Josh McGuire.
We're committed to reconciliation
We continue to work on reconciling our past and moving forward positively, constructively and in partnership with all First Nations peoples.
Our Reconciliation Action Plan guides us to become an even more inclusive organisation that achieves mutual respect, equity and positive relationships between First Nations peoples and other West Australians.
We proudly tell our reconciliation story to the community, our customers and our staff. We are transparent about what we want to achieve, whilst always seeking feedback on how we can improve.
Reconciliation Action Plans
A reconciliation action plan (RAP) provides a framework for organisations to support the national reconciliation movement.
This strategic document sets out the elements required for an organisation to build strong relationships as well as practical actions that assist in driving an organisation's contribution to reconciliation.
Our Innovate RAP
The second stage of our RAP journey outlines actions for achieving our vision for reconciliation via our Innovate RAP. Launched in May 2022, this plan will run to 2024.
Innovate Reconciliation Action Plan 2022-24
Our Reflect RAP
Active from 2021 until 2022, our Reflect RAP laid the foundations for future reconciliation actions and initiatives.
You can find out more about reconciliation action plans, at the Reconciliation Australia website.
Reflect Reconciliation Action Plan 2021-22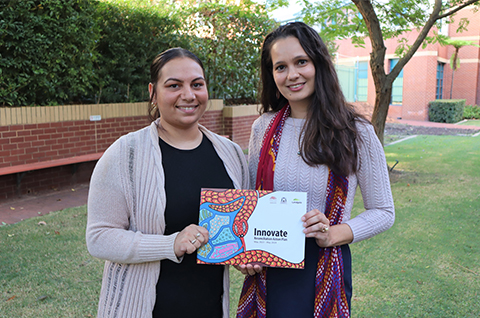 "What I have found is an organisation whose approach, passion and drive to reconciliation is truly refreshing."
– Angelina Headley, First Nations Networking Group
Reconciliation achievements so far
Established a Reconciliation Action Plan Working Group and a First Nations Employee Networking group.
Awarded 28% of contracts to First Nations businesses, well above the Public Sector target.
Implemented First Nations recruitment processes and applied Section 51 of the EEO Act to all recruitment processes.
Host and attend key events and activities, such as National Reconciliation Week and NAIDOC Week.
Cultural Empowerment Workshops elevated to On-Country experiences at a site in Gidgegannup for Landgate staff to gain a better understanding of the connection to land that First Nations people have.
For more information email us at: RAPWorkingGroup@landgate.wa.gov.au.